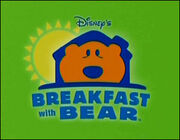 Breakfast with Bear is an hour-long television show that aired on Playhouse Disney in 2005 and 2006.
In each episode, Bear (who originally appeared in Bear in the Big Blue House), visited a different house and followed one child's morning ritual, finishing with breakfast. Short episode of Charlie and Lola, Rolie Polie Olie, Shanna's Show or Shane's Kindergarten Countdown, Captain Carlos, This is Daniel Cook, Dan Zanes House Party and The Book of Pooh appeared between the main segments.
Ad blocker interference detected!
Wikia is a free-to-use site that makes money from advertising. We have a modified experience for viewers using ad blockers

Wikia is not accessible if you've made further modifications. Remove the custom ad blocker rule(s) and the page will load as expected.